RPG Annual Convention 2018 (plus AGM)
CLICK HERE to view and print the RPG 2018 Annual Convention Attendance Booking Form
The RPG Annual Convention (plus AGM) is held in late Spring / early Summer each year. It is open to RPG members, but visitors are also welcome. The Convention format alternates from year to year. One year it will be a one-day event, and the next year it will be a weekend event, with the venues being chosen from different regions around the country. In June 2018 we are holding a weekend Convention (see below).
Members give talks and displays on various topics of RPG interest, with plenty of friendly discussion and chat – you always learn something new! There are also display competitions in various classes, with some rather grand trophies to be won! There is also the Swap Shop. It is always enjoyable, so why not come along and see?
Displays welcomed! If you fancy giving a display, please contact Dr. Iain Wells (see below)
If you have any queries about the 2018 Convention please contact the Convention Coordinator:
Dr. Iain Wells,  9 Mill Lane,  Bentley Heath,  Solihull,  B93 8PA
email: conv2018@railwayphilatelicgroup.co.uk
The 2018 Annual Convention:    Friday, 15 June – Sunday, 17 June (2018)
The
2018 Annual Convention
 will be held at the
Greswolde Arms, Knowle, Solihull, B93 0LL

CLICK HERE to view the Greswold Arms Hotel       (opens in a new window)
CLICK HERE to view a MAP showing the Greswolde Arms Hotel       (opens in a new window)

Formal Convention activities will be scheduled for Saturday morning and afternoon, and for Sunday morning. A Programme of Activities will be posted here nearer to the date.
We hope to have a data projector and laptop computer available for the use of anyone presenting a talk who wants to use a computer-based series of images (such as a PowerPoint display) to support his/her paper-based presentation.
Booking for Attendance at the 2018 Convention
Attendance at the 2018 Convention is FREE to RPG members, but we need to know in advance how many people are coming. Please complete the Convention Attendance Booking Form.
CLICK HERE to view and print the 2018 Convention Attendance Booking Form
Mid-morning and afternoon tea and coffee will be provided for delegates, as well as a buffet style lunch on the Saturday. Delegates will arrange their own accommodation (see below) and their own evening meals (see further below).
2018 Convention Displays
Members will present various railway philatelic displays on topics of their own choosing. If you would like to give a presention or display on your own favourite railway philatelic topic, please contact the 2018 Convention Coordinator (Dr. Iain Wells – email address & postal address above) for details of what is involved.
2018 Convention Competitions
You can also submit entries in the various competition classes, each of which has a trophy for the winner:
The Doncaster Cup (TPOs – Postal History)
The Morley Cup (Railway Parcel Stamps)
The Jackson Cup (Railway Letter Stamps)
The Malin Cup (Railway Thematics)
The Bailey Trophy (RSO Postmarks, Station Postmarks & Railway History)
We would give every encouragement to anyone thinking about entering one of these competitions. Each event has its own magnificent trophy – which the winner will keep for a year (and have his/her name engraved alongside some of the great RPG names of the past!).
For details of how to enter a display in one of these various competition classes – or just for more information – please also contact Iain Wells (as above).
2018 Convention – Postal Displays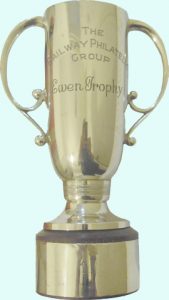 We have something new at this year's Annual Convention! For those members who do not expect to get to the Annual Convention we are introducing a Postal Display Competition.
Do you fancy having a go at sending in a display (12 – 20 single sided A4 pages) about your favourite railway phuilatelic topic? This will be a fairly informal competition, and hopefully a lot of fun! You could even win the Ewen Trophy!
CLICK HERE to find out how to create and send in a Postal Display
Booking of Accommodation
There is a choice of accommodation in the locality, including the Greswolde Arms itself:
Greswolde Arms Hotel, High Street, Knowle, Solihull, B93 0LL (tel. 01564 772 711 )
We have agreed a corporate with the Greswolde Arms of £65 per room (bed only, same rate for single or double), with breakfast available at £7.99 per person. To take advantage of this corporate rate, please ask for Charlie, Sue or Ashley and mention RPG special Bed & Breakfast rate.
(breakfast alternative): Wilson's Carvery (2 minutes down the road) does an all you can eat cooked breakfast for £4.69 per person , plus unlimited hot drinks for £2.09 for. They also have veggie options, as well as porridge and cereals.
Far End Guesthouse (tel: 01564 775 062)   kixley@btinternet.com
Achill Guesthouse (tel: 01564 774 090)
Premier Inn, Hockley Heath (tel: 08715 278 984), which is situated on the Stratford Road just 5 minutes off the M42 and with a direct bus (S3) to the venue in Knowle
Optional Evening Meals
Delegates will arrange their own evening meals, but optional 'group' meals will be arranged both for Friday night and Saturday night.
a) Friday evening (15 June): an Informal Dinner will be booked for 19:30 at the Greswolde. We need to give the hotel advance notice of numbers for this so that they can set tables out accordingly, so if you wish to partake of this meal, please complete the appropriate section of the Attendance Booking Form. Delegates will choose from the menu on the night and pay on the night.
b) Saturday evening (16 June): a 3-course Group Dinner will be booked at Janito (this is a Mediterranean-style restaurant, some 2 minute's walk from the hotel) at a cost of £30 per person (including VAT, but excluding beverages). The menu will be available in April, from which participants will select their choice. This meal needs to be booked and paid for in advance so, if you wish to partake of this meal, please complete the appropriate section of the Attendance Booking Form and send in a cheque for the meal.
c) For those who do not wish to partake of the 'group' meals, there are also plenty of other local options such as Indian restaurants, Italian and Spanish restaurants, Chinese restaurants, a Thai reataurant, a Loch Fyne Seafood restaurant, as well as 3 pubs.
Non-Philatelic Programme
For any partners who wish to explore the area while formal activities are taking place, there are  accessible National Trust properties at Packwood House and Baddesley Clinton as well as the Birmingham Back to Backs.
In Birmingham there are the Barber Institute of Fine Arts and the Museum of the Jewellery Quarter. Also, Stratford-upon-Avon is only 30 minutes away by car.
[Knowle Stamp Fair is held on Sunday 17
th
 June (09:30 -15:00) in Knowle Village Hall, some 5 minutes' walk from the venue, but this does not usually have much of railway interest.]
Don't miss the 2018 Annual Convention – watch this space!
The 2017 Annual Convention as it happened –

READ ALL ABOUT IT!
The 2017 RPG Convention was held on Saturday 13 May at the Locomotion Railway Museum (the National Railway Museum site in Shildon, Co. Durham). Most attendees arrived on the Friday night and gathered for a meal at the spectacular Walworth Castle Hotel nearby. The food was excellent, but we were seated at separate adjacent tables and this split the group up somewhat.
We can rarely have had a Convention at such an interesting venue. We were given free use of the Hackworth Room at Locomotion. The Locomotion staff could not have been more helpful to us in setting things up beforehand and throughout the Convention itself – for which we must offer our sincere thanks to the Museum. Here are some pictures from the Museum: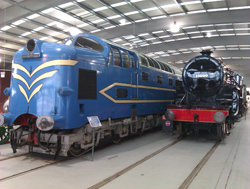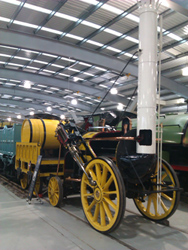 We started the day with an interesting display from John Bathard telling us about how the railway Posts of Hungary and Romania were interlinked. This was followed by a Presentation in a Box from Roy Hardiman, telling us about the varied range of interests covered by the RPG. It is intended to refine this presentation and make it available to any member who wishes to give a presentation to local societies or groups to tell them what the RPG is all about (hence the title Presentation in a Box).
For this Presentation in a Box (and for some subsequent presentations) we were able to use the Museum's data projector to display slides on a screen (actually a plain wall). This enabled attendees to see things at a much larger scale, and in greater detail. It was certainly a big help, and something we will look to repeat when we can.
The next item on the agenda was a preview of the new draft RPG web site, again using the data projector. A number of helpful suggestions were received on how best to take the draft web site forward. It is hoped to put the draft site live sometime this summer – watch this space.
After a coffee break, the AGM came … and went … as AGMs do. Having said that, there was quite a bit of lively, interesting  and useful discussion – enough to keep us all awake!
CLICK HERE to view the draft minutes of the 2017 AGM.
At lunch time members were able to take an all too brief look round the museum, and the afternoon started with a look at the Mistakes, Corrections and Official Doctoring of TPO AM Postmarks presented by Ian Wells – an interesting subject which we rarely see much about (again with the help of the data projector). This was followed by a detailed exposé by Stephen Parkin of how mail was dealt with on routes in and out of edinburgh. Ken Mitchell also presented an overall view of the Postmarks of Railway Sub Offices; it is hoped to incorporate this display into the new web site.
Then there were the competitions and swap shop (but not much material). However, we were fortunate to have a couple of Exchange Packet boxes at the Convention, and several members were able to find quite a lot of useful material. The Convention was brought to a close at about 5.00 pm, but this was not the end of proceedings.
We were then treated to a real bonus! A couple of minutes' drive away we were able to visit the site in Shildon where they are building a new G5 tank engine from scratch – mainly to service the insatiable requirements of the Preserved Railways. We were given a tour of the site plus a most enlightening lecture on why this particular loco was chosen, what the difficulties have been, and what the future holds. CLICK HERE if you want to read more about the G5 (opens the G5 web site page).
Then it was back again to the splendid Walworth Castle …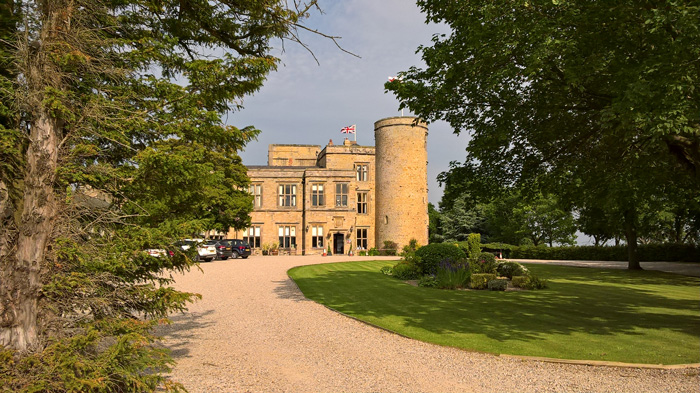 CLICK HERE to see more about Walworth Castle.      (opens Walworth Castle web site page)
Although this convention was a one-day event, most attendees stayed over at the Walworth Castle on the Saturday night. The food was again excellent, and this time we were seated at 'joined up' tables which made for a better social night.
In short, the weather was great, the food was good, the hotel was superb, the surrounding countryside was lovely, the museum was fascinating, and the company was tip top – what more could we ask for?  Finally, we must record our thanks to Jim Bryant (2017 Convention Coordinator) for putting everything together and giving us a wonderful time!
If you weren't there, you missed a very enjoyable day/weekend.
If you have not yet been to Locomotion, we can tell you that it is absolutely worth a visit!
CLICK HERE to see more about the Locomotion Museum at Shildon.   (opens web site page)
The 2018 Annual Convention … again
The 2018 Annual Convention will be a weekend event held from Friday, 15 June (2018) to Sunday, 17 June (2018) at the Greswolde Arms, Knowle, Solihull (just off the M 42, near Birmingham). It should be a great weekend – see you there?
If you want contact us, ask a question, or if you would just like to know more,
CLICK HERE to go the the Contact Us page