The RPG Annual Convention (plus AGM) is held in late Spring / early Summer each year. It is open to RPG members, but visitors are also welcome.
The Convention format alternates from year to year. One year it will be a one-day event, and the next year it will be a weekend event, with the venues being chosen from different regions around the country: during the past three years we have met in Perth (2016), Shildon (2017) and Solihull (2018).  The 2019 Convention will be a one-day event.
Members give talks and displays on various topics of RPG interest, with plenty of friendly discussion and chat – you always learn something new! There are also display competitions (see below) in various classes, with some rather grand trophies to be won! There is also often a Swap Shop. It is always enjoyable, so why not come along and see?
RPG 2019 Annual Convention
The RPG 2019 Annual Convention Organiser is Terry Davies. This Convention is a one-day event, and will be held at the Royal Oak Hotel  (Severn Street, Welshpool, SY21 7DG) on Saturday, 27 April. Attendance is free. Why not make a weekend of it – quite a few members will be arriving on the Friday night and will be there all weekend. There will be an optional RPG Dinner on the Saturday evening (£25), and a ride is planned for Sunday, 28 April on the Welshpool & Llanfair Light Railway (price to be arranged).
You can use the CONTACT US facility to find out more about the 2019 Annual Convention, or to indicate that you might be interested in attending.
2019 Convention – Extended Programme
Friday Evening (26 April):
Informal get-together and drink in the Royal Oak Hotel. Meet up and have a good chat. Look for Railway Philately on the table.
Saturday (27 April): Main Programme
9:00   Meet for coffee & a chat
9:30 – 12:30 Talks will include:
•  Cambrian Railways Postal History
•  History of the Welshpool & Llanfair Light Railway (WLLR)
•  WLLR Railway Letter Stamps
12:45  Lunch – plus Swap Shop, and visit to the dealers
2:15   Competition entries
3:00  Competition judging and awards
3:30  RPG  Annual General Meeting
The Convention is open to the public, and the Welsh Postal History Society also has been invited. RPG member who are also dealers have also been invited to have a stall. Surplus material from the RPG Library will also be available for viewing and for sale.
7:30   Dinner (Optional) – CLICK HERE to view and print the Booking Form for Dinner
Sunday (28 April): extra-curricula event (optional)
Return ride on the Welshpool & Llanfair Light Railway. Assemble 10.45 am at Welshpool Raven Square for an 11.15 am departure. Members can return on the 1.30 pm or 3.30 pm  trains, as they wish.  A minimum of 10 people are needed for the discounted price quoted.
CLICK HERE to view and print the Booking Form for the WLLR Return Ride
A tour of the works at Llanfair Caereinion may also be possible. Please let us know if you are interested.
Members, partners and 'non-participants' may also like to visit the old (listed) Welshpool Station building, which is now an Edinburgh Woollen Mill … but there are still lots of original features inside, plus a cafe. Also, Powys Castle is just outside the town (five minute drive), and further down the same road is Charlies (Coed-y-Dinas) a large garden centre with housewares and local produce etc. All in all it should be a good weekend. Put this weekend in your diary.
2019 Convention – Accommmodation
Rooms in the Royal Oak hotel are roughly £100 a night. (The Queen stayed there on her Jubilee tour, so you could sleep in the same bed as her.) For other accommodation details, contact Welshpool Tourist Information Centre: 01938 55 20 43.
2019 Convention – Travel Directions
By Car:
Take the A483 from Owestry, or the A485 from Shrewsbury. At the roundabout by the station, take the 3rd exit (signposted Town Centre), then take the first on the left. Cross the mini-roundabouts and follow the road round to the large car-park on New Road (£4.20 for 4 hours). Walk up the road, turn left, then left again at the lights. The hotel is on the corner of Church Street & Severn Street.
By Rail:
Welshpool is on the main Birmingham, Shrewsbury, Aberystwyth line. From the Station, Cross the road (which was once the main tracks) via the footbridge and continue up Severn Road to the traffic lights. The hotel is on the corner.
By Air:
Fly to Birmingham International, then train or light aircraft to Welshpool airport.
Local Map: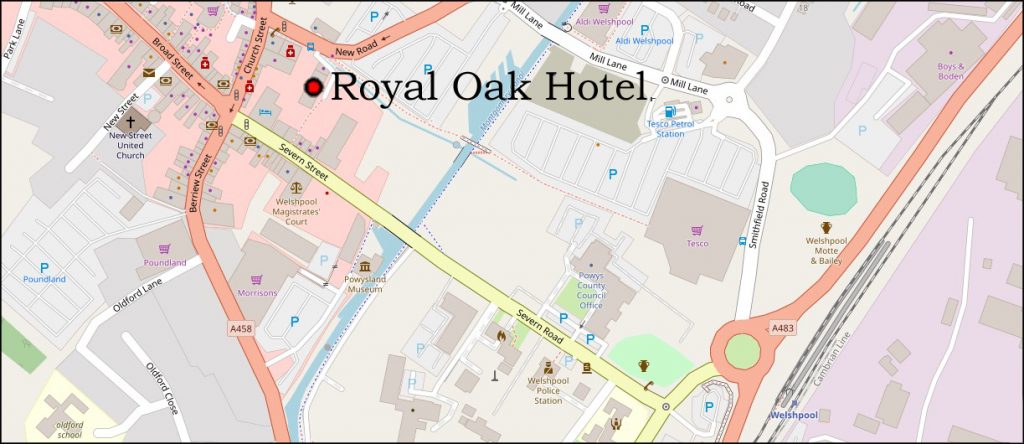 About RPG Conventions Generally
CLICK HERE to read about the RPG Annual Convention 2017
CLICK HERE to read about the RPG Annual Convention 2018
Displays
In the months before the Convention, members submit offers to the Convention Coordinator to present railway philatelic displays on topics of their own choosing.  There is not usually a set theme and the variety of presentations offered is often one of the attractions of the event.  The displays take the conventional multi-page form and 'tell a story' about the main topic through philatelic items and a connecting narrative.  A data projector and laptop computer are normally available for the use of anyone presenting a talk who wants to use a computer-based series of images (such as a PowerPoint display) to support his/her paper-based presentation.
CLICK HERE to view some displays presented at previous Annual Conventions
Logistics
Attendance at Conventions is usually FREE to RPG members, but we need to know in advance how many people are coming and so ask people to register in advance with the Convention Coordinator.
Mid-morning and afternoon tea and coffee is normally provided for delegates, as well as a buffet style lunch on the Saturday. Attendees will arrange their own accommodation and their own evening meals.  However, the Coordinator is usually able to advise on the choices available locally, and frequently a specific hotel is chosen as a recommended base so that members can socialise outside the Convention programme.
Competitions
The RPG will run Competitions annually, subject to there being sufficient entries. Each event has its own magnificent trophy – which the winner will keep for a year (and have his/her name engraved alongside some of the great RPG names of the past!).
Subject Specific Competitions (sixteen A4 pages or equivalent)
Railway Postal History – including TPOs, RSOs, Station marks etc (Doncaster Cup)
Railway Stamps – Parcel, Newspaper, Letter (old-style & modern) (Turner Jackson Cup)
Railway Thematics (Malin Cup)
Open Postal Competition (nine A4 pages or equivalent)
Any railway philatelic subject (Ewen Trophy)
CLICK HERE to view the RPG COMPETITION RULES
CLICK HERE to view GUIDELINES for PREPARING ENTRIES
CLICK HERE to view the JUDGING CRITERIA for COMPETITIONS
For further information about RPG Competitions please contact the 2019 Competition Organiser:     Mr Terry Davies, 69 Bruce Road, Kidderminster, DY10 2TY
Non-Philatelic Programme
Convention venues are selected so that there is usually a wide range of attractions within easy reach that may be visited by the partners of attendees while formal activities are taking place.  Partners are also most welcome at the dinners and social events within the programme.
If you want contact us, ask a question, or if you would just like to know more,
CLICK HERE to go the the Contact Us page