The RPG at Hornby Electric Train Show (Sat/Sun 8/9 October 2022)
(posted 3 March 2022)(archived 10 October 2022)
The Railway Philatelic Group will be having a stand at the Hornby Great Electric Train show at Milton Keynes on Saturday and  Sunday, 8th-9th October, manned by Terry and Christine.
Why not go along and introduce yourself to them!
The RPG at London 2022 International Stamp Exhibition
(posted 3 March 2022)(archived 30 September 2022)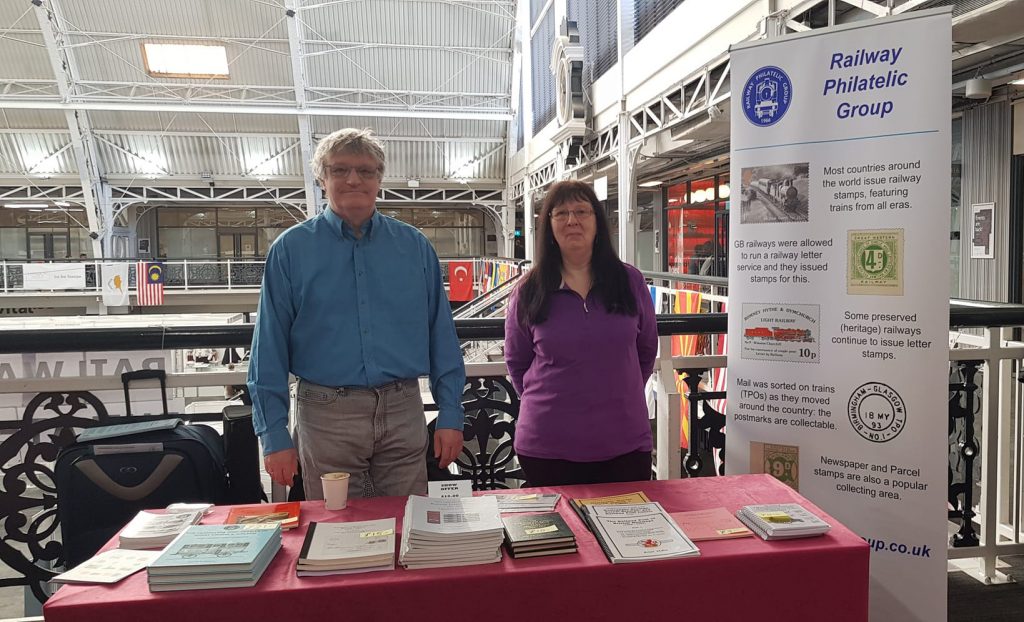 Wednesday 23rd February was 'Societies Day' at the London 2022 International Stamp Exhibition. The RPG had a stand there (staffed by Terry and Christine) on what turned out to be an excellent day. About a dozen RPG members and quite a number of non-members visited the RPG stand, and this generated a lots of interesting discussions.
Two new RPG members were signed up and a number of railway philatelic books were sold, including copies of Brian Childs' NER, LNER and BR parcel stamp catalogues … showing there is a demand for listings of this type. The RPG has now started work on an up-to-date Railway Newspaper & Parcel Stamp Catalogue of the whole of Great Britain & Ireland. This is a huge task, as the last such catalogue was published in 1906 by Herbert L'Estrange Ewen!
RPG at London 2022 International Stamp Exhibition
(posted 28 Jan 2022)(archived 27 February 2022)
Every ten years there is an International Stamp Exhibition held in London. Because of Covid, the 2020 event was put back until this year, and is now going to take place from the 19th to 26th February at the Business Design Centre, London N1 (nearest tube: The Angel).
Various societies were offered discounted tables for the Wednesday (23rd  February), and the RPG has managed to secure a table (in bay G24, at the far end of the gallery level). Our table will be staffed by RPG members, and the venue is open from 10 am till 6 pm. So, if you can make it, why not come along and say "Hello"! You'll be made very welcome!
There are also a handful of non-philatelic railway displays [USSR, Cyprus, Burma Railway, Italy, Ottoman – each of about 48 pages or so] mainly in the first half of the week. For more details go to London2022.co
STAFFORD STAMP SHOW (RPG Stand)
(posted 29 September)

(archived 30 November 2021)
Stafford Stamp Show will take place on Friday (12 November) and Saturday (13 November) at Weston Road, Stafford ST18 0BD … and the RPG will have a stand there. If you are visiting, why not come along and say hello to us!
HORNBY GREAT ELECTRIC TRAIN EXHIBITION – THIS WEEKEND
(posted 29 September) 

(archived 7 October 2021)
The Hornby Great Electric Train Exhibition will take place on this Saturday (2 October) and Sunday (3 October) at the Marshall Arena, Milton Keynes, MK1 1ST … and the RPG will have a stand there – come and see us! Four free tickets will be available for each day; if you'd like one please contact Terry Davies (Terry.Davies11@virgin.net) before noon this Friday (1 October).
RPG SUMMER 2021 POSTAL AUCTION  – NOW OPEN (posted 25 June 2021)


(archived 31 August 2021)
The RPG Summer 2021 Postal Auction is now open (available to Members only). The closing date for the bids for the RPG Summer 2021 Postal Auction is 12 noon on Saturday, 31 July 2021. There are 600 auction lots (a record number) with over 50 illustrations! Something for everyone?
MIDPEX 2021: 10:00am to 4:30pm, 3 July 2021 (Warwickshire Event
Centre, Leamington Spa, CV31 1XN – info from the ABPS web site)

(archived 17 July 2021)
Plans for MIDPEX (sponsored by Cavendish Philatelic Auctions Ltd) have been confirmed and Dealers and Societies are now booking up for this popular and successful Show. Organiser Steve Harrison comments "We have been through some difficult times with the Covid 19 pandemic. As the vaccination programme continues, there is renewed confidence that the event can go ahead safely. Of course, all of this is subject to any future government restrictions, but the outlook seems extremely promising".
MIDPEX brings together Specialist Societies with local, national and international dealers covering all aspects of Philately. The 2021 event 2021 will be expanded with space for post card dealers as well as stamps, thematics and postal history. There is only space for 70 dealers, and 40 Specialist Societies are also expected to support the Show. For more information please contact Steven Harrison by email: sharrison500@btinternet.com
COVID Precautions at MIDPEX: To comply with Government guidelines and to provide the safest possible environment for everyone attending, visitors to MIDPEX will be required to wear face coverings at all times except when taking refreshments. Visitors will be required to provide contact details on entry. A QR Code will be available for the Covid app. Any details left in writing will be stored securely for 21 days and then destroyed. Visitors will also be required to adhere to the social distancing guidelines of 2 metres plus, although when seated this can be 1 metre plus. A face covering must be worn at all times. Hand sanitiser will be available for use on entry and should be used before handling dealer's stock etc.
MEMBERS' ZOOM MEETINGS in 2021
(archived 25 June 2021)
March 2021 Meeting (Report):
The first Members' Zoom Meeting was a presentation by Steve Ellis on Rail Mail in France held on 24 march. The presentation was split into two parts (each lasting about 30 minutes), and the first part gave an introduction to the Development of Rail Mail in France and the cancellations used, with a specific focus on the Paris Lyon Marseille (PLM) Railway, while the second part dealt with the Mont Cenis Railway and asked how a British railway (built across the mountains of the Alps between France and Italy, and operational for less than 3½  years) could have had such a significant impact on the carriage of mail in the second half of the nineteenth century! This meeting was extremely successful, with some 34 people attending (including some members of the TPO & Seapost Society and the French Railway Society).
June 2021 Meeting (Report):
The second Members' Zoom Meeting was a presentation by RPG member Stephen Parkin entitled Mail by Rail: Edinburgh by the East Coast Main Line (TPOs). It was an evening presentation to allow working members the opportunity to attend also. As for the March meeting, the presentation was split into two parts (each lasting about 30 minutes). The first part covered the journey between Edinburgh and Newcastle, and the second part covered everything else.  This meeting was again hugely successful, with some 30 people attending.
GROSVENOR AUCTIONS: Stuart Phillips Collection
(archived 7 June 2021)
CLICK below to view the Grosvenor Auction Catalogue for the Stuart Phillips Collection
https://www.grosvenorauctions.com/PDFs/141/141-Railways.pdf
The Stuart Phillips Collection is to be auction by Grosvenor Auction on 28 April 2021. It contains a vast amount of rare railway philatelic material, described in the Catalogue as 'Railway Stamps and Covers'. The bulk of the collection consists of 'old-style' railway letter stamps, but there is something there for everyone! Here is a brief summary of the contents:
Covers & Postmarks:
– Liverpool & Manchester Railway (13 lots)
– Early Covers (1842 to 1872) (7 lots)
Railway Letter Stamps (traditional/pre-1950)
– Railway Letter Stamp Essays (9 lots)
– Railway Letter Stamps of England & Wales (329 lots)
– Railway Letter Stamps of Scotland (19 lots)
– Railway Letter Stamps of Ireland (24 lots)
Railway Parcel Stamps
– Railway Parcel Stamps of England & Wales (32 lots)
– Railway Parcel Stamps of Scotland (2 lots)
– Railway Stamp Collections (7 lots)
ZOOM Meetings for RPG Members 
(archived 7 June 2021)
The RPG is to set up occasional online meetings for RPG Members using the Zoom platform. CLICK HERE for information about these ZOOM Meetings for RPG Members
'New Ideas' (posted January 2021) 
(archived 7 June 2021)
The RPG Committee is looking into various ways of adding to the benefits available to members:
•  we are looking at developing Zoom meetings among and for the benefit of RPG members
•  we are looking at the possible benefits of establishing an RPG Facebook page
… so 'watch this space'!
New Books 
(archived 7 June 2021)
Two new books about railway philately are soon to be published:
•  a new book by Frank Wilson on Railway Letter Stamps is at the proof reading stage
•  a set of 4 new books by Grahame Blackman on RSOs (Railway Sub Offices) will soon be ready
It is hoped that both of these will become available by late Summer 2021.
… so, again, 'watch this space'!
'50 Years of RAILWAY PHILATELY' on a memory stick
 (archived 7 June 2021)
A memory stick ('flash drive') containing the first 50 years of Railway Philately (1966-2016) has been created by scanning all 200 publications from cover to cover. So you can have all the information from a 50-year period at your finger tips! The memory stick also contains detailed indexes (by subject) of all articles published in those 50 years.
Price:
£10 to members of the RPG and members of the TPO & Seapost Society (includes postage)
£15 to non-members (includes postage)
Please email Keith Downing at publications@railwayphilatelicgroup.co.uk for infromation
2021 Annual Convention 
(archived 7 June 2021)
Subject to Government corona virus restrictions, the 2021 Annual Convention will be held in late Summer/early Autumn 2021, hopefully at the venue in Derbyshire that had been arranged for the 2020 Convention (but if it proves impossible to hold the Convention 'live', we hope to be able to present a 'virtual' Convention using Zoom). If you have any questions about the Convention please send them using the 'Contact Us' form on this website.
The Whitworth Centre is in Darley Dale, Matlock, Derbyshire on the edge of the Peak District National Park with a wealth of tourist and railway attractions close by. The convention will include members' displays on all aspects of Railway philately as well as the Group's AGM.
Peak Rail runs through the village with the Ecclesbourne Valley Railway, the Midland Railway Centre, the National Tramway Museum and Barrow Hill Roundhouse all close by. Chatsworth House and Haddon Hall are within 5 miles whilst Bakewell, Buxton, Chesterfield, Cromford Mills World Heritage site, Bolsover Castle and Hardwick Hall are all in the area.
Matlock is served by an hourly train service from Derby and Nottingham with an hourly direct bus service from Buxton giving easy access to Manchester and North West England. East Midlands airport is close to Derby with flights from a range of cities. Matlock is just 10 miles from the M1.
There are a range of hotels and guest houses in the area including Matlock Premier Inn although as it is a popular tourist area, it can be difficult to make last minute bookings. It is advisable to book accommodation as early as possible once you know you will be attending.
A booking form will be included a future Newsletter to members.  A copy will also be made available for downloading from this website.   Non-members who would like to attend the event (though you cannot vote at the AGM) are invited to let us know using the 'Contact Us' form on this website.
Coronavirus 
(archived 7 June 2021)
Although most public events are either cancelled or substantially curtailed due to Corona Virus restrictions, the Railway Philatelic Group is very much 'Open for Business':
 Please continue to send queries via the Contact Us page on the RPG web site.
 Please continue to send queries and articles for Railway Philately to Keith Downing, the Editor of Railway Philately (address and email to be found in Railway Philately).
 Please send any other queries to Roy Hardiman, the RPG Secretary (address and email to be found in Railway Philately).
 It is expected that the RPG Postal Auctions will proceed as normal.
 The Exchange Packet will also continue as normal.
 Don't forget that members with similar interests can discuss their shared interest with other members by using the contact details in the List of Members Interests (which was copied to all members)
In the meantime, we advise all members to follow official advice and protect themselves and others as best they can.
2019 Annual Convention
(archived 31 January 2021)
The 2019 Annual Convention of the RPG was organised by Terry Davies and held at the Royal Oak Hotel in Welshpool over the weekend of 27-28 April 2019. Following the usual pattern, this year's was nominally a 1-day event on the Saturday, although the majority of participants made the occasion an excuse for an enjoyable long weekend. Socialising began on the Friday evening in the hotel bar when old acquaintances were renewed, but the business proper started the following morning. Proceedings were started briskly by Chairman Brian Childs who introduced the first of the speakers Prof. Cedric Pryse-Roberts, one of several guests from the Welsh Postal History Society, whose subject was 'The Ruabon to Barmouth Railway and the Bala to Ffestiniog Railway'. This talk blended railway history and philately and provided a great introduction to the area. Our next speaker was a Canadian, Charles Spencer, who now runs the Welshpool and llanfair Light Railway, a local attraction that the RPG group were to visit on the following morning. Charles gave us a good insight into the strategies that have helped to sustain and develop the WLLR from its initial days in preservation. Most appropriately the final speaker before lunch, Les Winn, had made a collection of 'The Railway Letter Stamps of the Welshpool and Llanfair Light Railway' and this nicely complemented the preceding talk, looking at some of the anniversaries celebrated by the railway during its more recent years.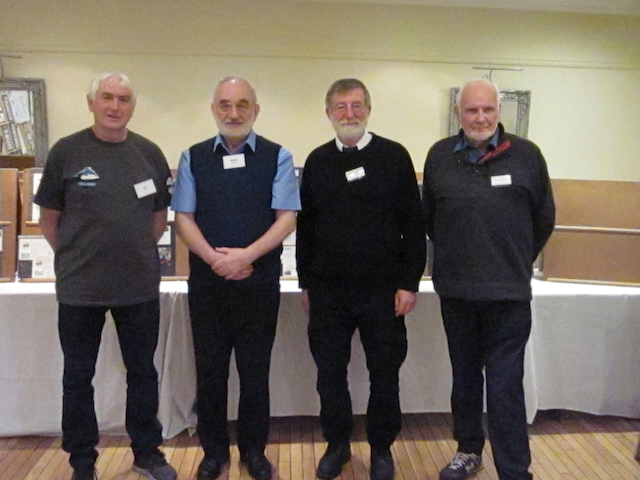 Brian Childs (2nd left)  flanked by Les Wynn (left) Charles Spencer and Cedric Pryse Roberts (right)
After lunch competition entries were put on display for attendees and our judge, Lynn Roberts to view. Later, following a close contest, the winners of two cups were announced. They were Dominic Wickremasinghe who won the Doncaster Cup with an entry titled 'TPOs of Posen-Lissa-romberg 1852 – 1945' and Chris Tennant whose entry 'The Green Arrow Registered Transit Service' won for him the Turner-Jackson Cup. The remainder of the Saturday afternoon was free for participants to explore the town but everyone came together again over a convivial dinner in the hotel.
Saturday morning saw most of the group reassemble at Welshpool Raven Square Station in good time to catch the timetabled 11.15 service to Llanfair Caereinion. Fortunately the rain of Saturday had abated and it was a pleasant ride through the green countryside on quite a busy train. At the terminus some opted immediately for the warmth of the cafe but many took advantage of a tour of the workshops and engine shed given by the WLLR's finance wizard Bob Mason. Participants then went their separate ways, some returning to Welshpool on the 13:00 service while others returned at 15:30hrs. Overall it was a memorable weekend with a nice balance of philately and railways.
2018 Annual Convention
(archived 10 May 2019)
The 2018 Annual Convention was held on the weekend of 15-17 June, 2018 at Knowle (near Solihull).
Ten displays were given over the weekend:
Rod Ash: Railway Postcards
Malcolm Roberts: London-Holyhead TPO
Lynn Roberts: Railway Hotels & Steamers
Clive Jones: Midland TPO and connections
Nigel Dickinson: South African Railway Parcel Stamps, Newspaper Stamps of the Scottish Railways & Minor Pre-grouping Railway Parcel Stamps
Rick Martin: US RPOs from a different point of view
Dominic Wickremasinghe: Travelling Post Offices of Prussia 1850-1889
Keith Downing: Tramway Mails & TPOs
John Bathard: Bosnia-Herzegovinian Railways to 1945
Iain Wells: A twist on FDC's: TPO AM Postmarks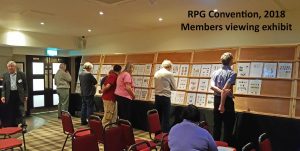 As is usual at the Convention there were also various competition displays where members presented a display in pre-set subject areas. These displays were judged according to laid down guidelines, with the winner in each group being awarded the appropriate trophy for the year. This year there were five such competition displays, some of which will be posted to this web site at a future date
The following trophies were awarded in competitions at the Convention
The Doncaster Cup (TPOs – Postal History display): 2018 Winner,  Clive Jones
The Malin Cup (Thematics): 2018 Winner,  John Bathard
The Ewen Trophy (Postal Display Competition): 2018 Winner,  Mike Tuttle
The Friday and Saturday evening provided ample time for socialising over fine dinners, rounding out an excellent event organised by Iain Wells.
CLICK HERE for further details of the most recent Annual Convention
New book on TPOs
(archived 10 May 2019)
Iain S. Wells of the RPG and Keith Morris (members of both the RPG and of the TPO & Seapost Society) have just completed their new book and details can be found here
CLICK HERE for more details about the book: The AM Postmarks of the Travelling Post Office
(opens in a separate window)
List of Members' Interests 
(archived 10 May 2019)
We are still receiving returns of the questionnaire about members' railway philatelic interests. When we have sufficient returns in we will compile a List of Members' Interests which will then be issued to all members. This will enable members with like interests to get in touch with each other and discuss their shared interests.
RPG Subscriptions
(archived 19 June 2018)
A few annual subscriptions are still outstanding. If you haven't already done so, please send in this year's annual subscriptions.
National Railway Museum, York
(archived 19 June 2018)
The RPG is having discussions with the National Railway Museum (NRM), York. These discussions centre around two possible courses of action:
a) Is it practical for the RPG to assist the NRM with queries they might receive from the public about railway philatelic matters?
b) Can the NRM and RPG together work to raise the profile of railway philately?
These discussions are currently being conducted on an informal basis. We will let you know if any substantive outcomes are reached.
NOTE – local or national events can be mentioned on this page.
Reports on events of interest can also be included on this page.
New discoveries or other items of interest can be noted here.
If you know of anything suitable for this page please let us know via the Contact Us page.