Railway Letter Stamps (GB & Ireland)
Modern/Heritage Light Railways
CLICK HERE to view a Bibliography of references to Modern Railway Letter Stamps
[Note:
post-1950
 (or
Modern) 
Letter Stamps (this page) and p
re-1950
 (
old-style) 
Letter Stamps are different in nature.
Old-style 
Letter Stamps are covered on the
Letter Stamps (pre-1950)
page.
Modern Railway Letter Stamps are usually covered in the RPG Journal (
Railway
Philately) under the  heading  of
The Light Railway Review
.
]
Modern Railway Letter Stamps (GB & Ireland) – Introduction
Unlike pre-1950 railway letter stamps, Modern railway letter stamps are very colourful, as can be seen by the two North Yorkshire Moors Railway stamps below: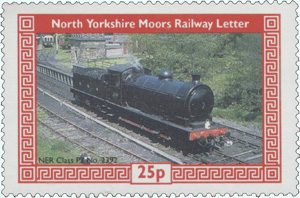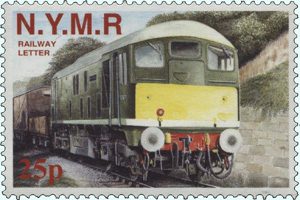 However, before we go into Modern railway letter stamps in any detail we really need to explain what makes 'modern' railway letter stamps different to 'old-style' railway letter stamps.
… before 'Modern' Railway Letter Stamps
In 1891 the Post Office came to an agreement with the railways whereby the railways could print their own letter stamps and provide their own letter delivery services, though not all railways signed up to this agreement. The railway letter stamps were to pay for the railway part of the letter's journey; letters would be transferred to the Post Office mail at their destination station, and had to carry a normal Post office stamps as well as the railway stamp. The 1891 agreement remained in force for more than 80 years.
By the mid-1930s however, most railways had stopped printing letter stamps, and instead used their own parcel stamps in lieu of letter stamps. That was effectively the end of 'old-style' railway letter stamps.
After the 1948 Nationalisation of the Railways, British Railways continued the practice of using their ticket-style PAID PARCEL stamps on railway letters. At this point in time, none of the few remaining post-nationalisation independent railway concerns had a railway letter service. So, for a number of years no railway letter stamps were printed at all – by anyone. But 'modern' railway letter stamps were soon to emerge as a great new area of interest for collectors.
There are really two kinds of modern railway letter stamps – those which were primarily used to pay for the carriage of a letter, and those which were primarily sold as souvenir items for publicity and to raise revenue. However, the difference is often unclear, and many modern railway letter stamps served both purposes.
There are also quite of lot of stamps which were issued in commemorative sheets, and are not often found as single stamps. In all, some 60 or so modern, preserved or heritage railways issued some kind of railway letter stamp at one time or another – there's likely to be such a railway near where you live!
1957 – Railway Letter Stamps issued by Talyllyn Railway
The 2′ 3″ gauge line Talyllyn Railway was opened in 1865. It escaped both the 1923 Grouping of the railways and the 1948 Nationalisation of the railways, and continued to operate as an independent railway. It was a signatory to the 1891 Post Office agreement, although it is not known to have ever printed 'old-style' letter stamps or provided a railway letter service in the early years. The railway might have closed in 1950 but for the efforts of enthusiasts who formed a preservation group  that enabled it to survive and subsequently to prosper.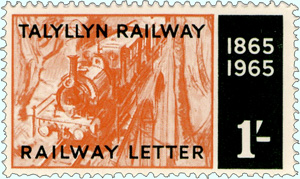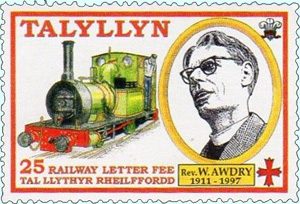 The Talyllyn Railway retained its status under the 1891 Agreement, and in 1957 became the first modern/preserved railway to issue letter stamps under this agreement. From then onwards the Talyllyn Railway has continued to issue new sets of railway letter stamps. Other independent railways have subsequently issued railway letter stamps.
More Information about the Talyllyn Railway
A display called About the RPG was presented at the 2017 RPG Annual Convention in Shildon. Part of that display covered Tallyllyn Railway Letter Stamps. For more information on this,
CLICK HERE to view the Talyllyn Railway Letter Stamps page of that display
(opens in a new window)
Railway letter stamps issued by other modern / preserved railways
The railway letter stamps of some other modern railways are illustrated here.
Bluebell Railway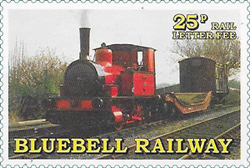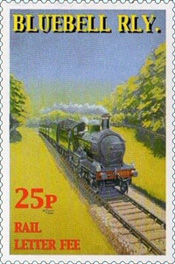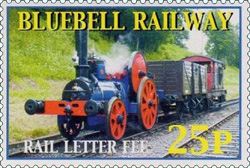 Festiniog Railway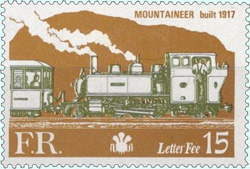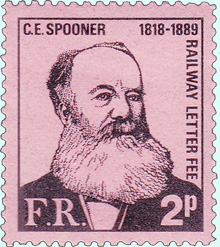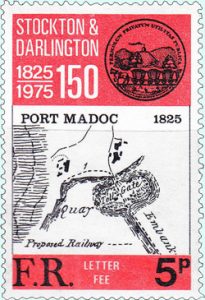 Nene Valley Railway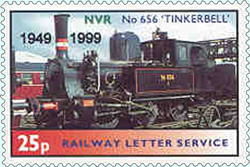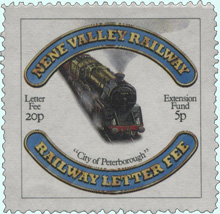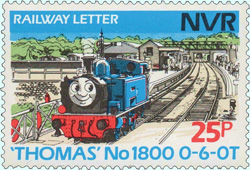 Romney, Hythe & Dymchurch Railway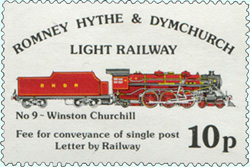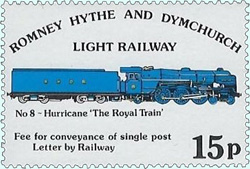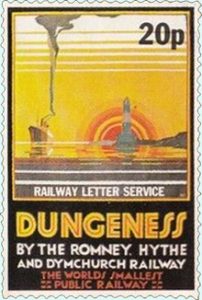 1974 – Revised Post Office / Railway Letter Service Agreement
At this time, British Railways effectively had a controlling interest in railway letter stamps. Any modern independent railway company wishing to transmit letters outside their own lines had to comply with BR requirements. British Railways set the rates for letter fees, and varied them from time to time with little or no notice given to the independent railways – which caused some difficulties for the independent railways.
In 1974 a new Post Office Agreement came into force, replacing the 1891 agreement. As before, not all independent railways signed up to this new agreement – there was little purpose in signing up if you didn't intend to run a railway letter service! The main benefit for independent railways (providing they signed up to it) was that they could now set their own letter fee rates and were no longer dependent on the whims of BR.
The railway letter fee was initially set at 10p, but letters still had to have a valid Post Office stamp on them. In return for this freedom, however, there was an extra fee to be paid for the transfer of a letter from independent lines to BR lines.
1984 –  The end of British Railways Letter Service
Over the years BR railway letter traffic became less and less profitable, and the BR letter service was eventually terminated in 1984, leaving no commercial countrywide railway letter service functioning in Britain. At this point, the independent/preserved railways also lost the the option of forwarding letters along BR lines.
1998 – Railway Letters … BR and the Preserved Railways
In 1998, a further Post Office Agreement came into effect. In essence, this was a series of individual agreements between each of the independent railways and the Post Office, whereby each railway negotiated the terms and conditions under which they could offer a railway letter service, including the onward postage of railway letters from a destination station. The cost of a railway letter stamp was set at 25p (for a letter weighing up to 100 grams), and the letter had to have a first class Post Office stamp on it.
As we saw above, however, British Railways now no longer offered onward carriage for letters from independent railways, and letters from independent railways destined for onward transmission had to be posted into a Post Office letter box at their final station on the independent line.
New Issues of Modern Railway Letter Stamps
The withdrawal of the BR Letter Stamp service seems to have had a knock-on effect, and the number of independent railways offering a letter service has fallen. At this point in time there are only three mainland independent railways which continue provide their own letter services and issue new sets of stamps – the Talyllyn Railway, the Festiniog Railway, and the Nene Valley Railway. Of these, only the Nene Valley Railway continues to issue new stamps with any regularity. The Isle of Man Railway also retains a letter service.
Nevertheless, modern railway letter stamps are very attractive and extremely popular. Indeed, even as the number of railways providing letter services falls, collecting these stamps has become a growth industry!
To search for images / pictures of Modern Letter Stamps etc …
First go to the Google website. Type (say) modern railway letter stamp pic in the Search box, press Enter, then click on Images for modern railway letter stamp on the resulting page.
If you want contact us, ask a question, or if you would just like to know more
CLICK HERE to go the the Contact Us page