Railway Letter Stamps – pre 1950
CLICK HERE to view a Bibliography of references to pre 1950 Railway Letter  Stamps
[Note:
Pre-1950
 (
old-style) 
Letter Stamps (this page) and
post-1950
 (or
Modern) 
Letter Stamps are different in nature.
Post-1950 
Letter Stamps are covered on the
Letter Stamps (Modern)
page.] When the Post Office (or, more correctly, the General Post Office) was established in 1660, it was given a monopoly on the despatch of letters from a specific sender to a specific receiver. When the railway companies arrived in the early 1800s they were therefore not permitted to run letter delivery services.
1891 – Railway Letter Stamps Agreement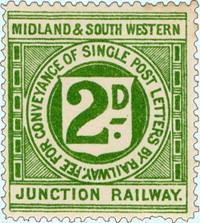 In 1891 the Post Office came to an agreement with the railways whereby the railways could provide their own letter delivery services, though not all railways signed up to this agreement. Railways printed their own letter stamps which were used to pay for the railway part of the letter's journey; letters would be transferred to the Post Office mail at their destination station. 
To comply with the Post Office's monopoly for the carriage of letters, a Post Office postage stamp had to be affixed to the letter (as well as a Railway Letter Stamp). 
The railway letter fee was fixed at twice the postage fee. For some 25 years or so the standard Post Office letter fee was 1d, so the cost of a railway letter stamp was 2d. Following the 1914-18 War the Post Office rate for letters rose to 1½d (and then to 2d), so the Railway Letter Fee rose to 3d (and then to 4d) to comply with the Act.
Railway letter stamps were supposed to be stuck in the bottom left corner of the envelope but this rule was often ignored – railway stamps were often stuck adjacent to the Post Office stamps. Collecting these railway letters stamps has been a major attraction over the years. Information is plentiful, and it can be fairly cheap to start a railway letter stamp collection.
Minor Design Variations
Under the 1891 agreement, the railway letter stamps of all signatory railways had to conform with a format laid down by the Post Office. The exact design structure was specified by the Post Office, along with the size and colour of the stamps (they had to be green). Thus, all railway letter stamps looked quite similar (though not always identical, as can be seen below).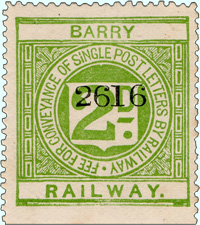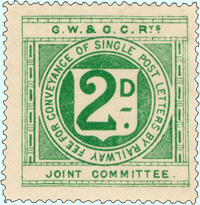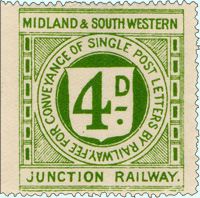 You will notice that some railway companies overprinted their railway letter stamps with a serial number (usually called a control number) to reduce the risk of theft or fraudulent usage. (This practice was often followed for newspaper stamps and general parcel stamps also.)
Colour Variations
More than a hundred British railway companies issued railway letter stamps under the 1891 Agreement. However, as always in life, where there are rules you will always find someone who doesn't quite follow them as intended …

The first letter stamp which the North Eastern Railway issued was red – which did not seem to upset the Post office too much. But they were greatly offended by the wording RAILWAY LETTER POST at the foot of the stamp. They felt that this wording infringed their monopoly.
| | | |
| --- | --- | --- |
| | After much discussion, the red NER letter stamp (left) was replaced with a green letter stamp (right) - without the offending wording at the bottom. | |
A few other railway companies issued red letter stamps, but this did not seem to provoke much reaction from the Post Office because the wording on the stamps was deemed to be acceptable.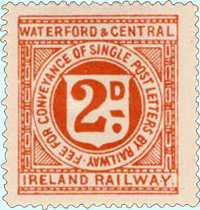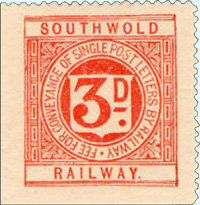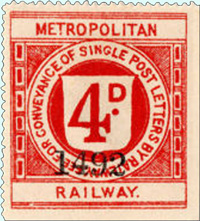 Other colour variations are known, including a blue Londonderry & Lough Swilly Railway letter stamps with a surprising face value of 1d, and a Stratford-Upon-Avon & Midland Junction Railway stamp printed on orange paper.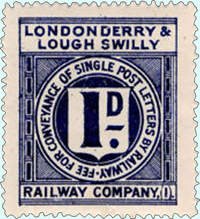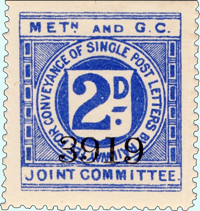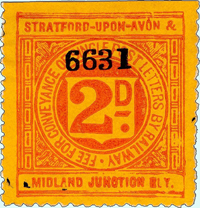 More Significant Design Variations
A few railway companies issued railway letter stamps which deviated significantly from the Post Office preferred design but, again, this did not seem to provoke much of a response from the Post Office.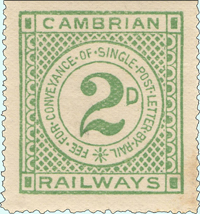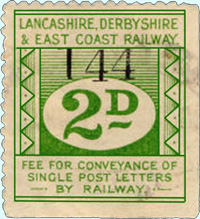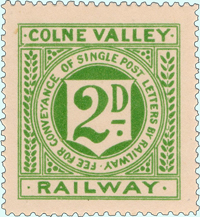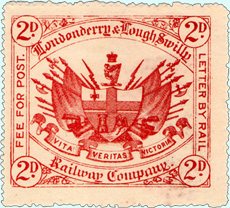 The Londonderry & Lough Swilly Railway issued a railway letter stamp which was totally different to the Post Office preferred design. Even this did not trouble the Post Office much – they seemed more concerned about the words on railway letter stamps and less about the colour or design. Today, collectors often wonder what all the fuss was about!
Overprints
When the official Post Office letter rate increased, the corresponding railway letter rate had to increase also. This would usually mean that new railway letter stamps had to be printed with the new rates on them. However, it was common practice to initially overprint old-rate railway letter stamps with the new rate and use those until new-rate printings were available.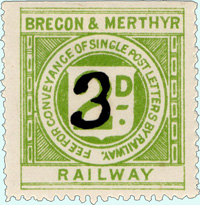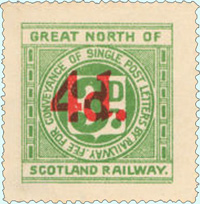 There are also issues where the company name was overprinted.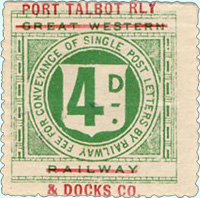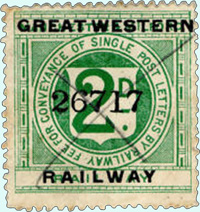 So, as you can see, there are lots of interesting variations in traditional railway letter stamps, despite the obvious similarity between many of them.
Railway Letter Stamp Catalogues
•  In 1901 that Herbert L'Estrange Ewen published his 448 page History Railway Letter Stamps. Two factors contributed to this being a definitive work on railway letter stamps. Firstly, as railway letter stamps were effectively issued under the direct supervision of the Post Office, extremely detailed records were kept of each individual print run … illustrations of the exact design used for each printing, the quantity of stamps printed, any flaws or faults recorded etc.  Secondly, railway letter stamps had only been in use for ten years, so Ewen had easy access to these contemporaneous in-depth records. Of course, Ewen's catalogue has long been out of print, but CD copies can sometimes be found on Ebay.
There are two more recent Railway Letter Stamp Catalogues which are both worth getting.
•  The Railway & Airway Letter Stamps of the British Isles 1891-1971 by Captain H.T. Jackson published 1979 by Harry Hayes. ISBN 0905222 377 (price £15 plus p+p)
•  The Railway Letter Stamps of Great Britain & Ireland 1891-1947 by Roger de Lacy-Spencer published 2000 by Moorside Publishing. ISBN 1903633 01X (price £25 plus p+p)
Both of these two catalogues are also out of print, but we have a few copies, and these can be acquired from the RPG Publications Officer at publications@railwayphilatelicgroup.co.uk 
Copies of these two catalogues can also be found on Ebay and elsewhere from time to time.
1925 onwards – Parcel Stamps used in lieu of Letter Stamps
Some time around 1925 (exact date uncertain), the Postmaster General gave permission for railway companies to use parcel stamps on letters instead of special letter stamps. From that point onwards most railway companies stopped printing special letter stamps, but they continued to use existing stocks of the letter stamps on letters (as well as using parcel stamps for letters).
By the mid-1930s most railways had switched over to using only parcel stamps on letters. The 1936 issue of the Cheshire Lines Committee railway letter stamps was possibly the last printing of traditional railway letter stamps. In practice, this was the end of the 'traditional' railway letter stamp.
After the 1948 Nationalisation of the Railways, British Railways similarly used their ticket-style PAID PARCEL stamps on railway letters. At that point in time, none of the few remaining post-nationalisation independent railway concerns had a railway letter service, so for some 20 years from the mid-1930s no railway letter stamps were printed at all – by anyone.
More information about pre-1950 Railway Letter Stamps
A display called About the RPG was presented at the 2017 RPG Annual Convention in Shildon. Part of that display covered pre-1950 Railway Letter Stamps. For more information on this,
CLICK HERE to view the pre-1950 Railway Letter Stamps page of that display
(opens in a new window)
Are damaged stamps of any value?
Yes, indeed they are. Unlike Post Office stamps, railway stamps were at times subjected to quite adverse conditions, and many are in less than pristine condition. Some of the rarest railway stamps are only known in what can best be described as dreadful condition. This does not make them any less collectable!
If you want contact us, ask a question, or if you would just like to know more,
CLICK HERE to go the the Contact Us page