Railway Company Parcel Stamps – Foreign
CLICK HERE to view a Bibliography of references to Foreign Railway Company Stamps
This page deals with Railway Stamps and Railway Post Labels issued in foreign countries for the conveyance of Newspaper Parcels and General Parcels (excluding those from England, Ireland, Scotland and Wales). This grouping has no significance other than to break down the stamps of the varied railway systems throughout the world into manageable chunks.
What will I collect … ?
For most people who collect 'foreign' railway stamps, the choice is simple – they collect stamps from a country they have some connection with or have a particular interest in. Generally, people will collect just a single country, though some may have secondary interests as well.
Collectors who collect 'foreign' railway stamps also tend to collect not only the stamps but also the various postmarks and other related railway post material of their chosen countries.
There are now so many railway stamp issuing countries in the world that we could not hope to give a comprehensive coverage here. Instead we will first give an overview of the railway stamps of one country as an example. For this example we have chosen Australia, because there is a fair bit of information on the internet about Australian railway stamps – you can search for this yourself as well.
We will then, further down this page, present a brief look at the railway stamps of a few other interesting foreign countries. It is nevertheless fair to say that almost all railway stamp issuing countries offer features of interest!
Foreign Railway Stamps:   an overview of the Railway Stamps of Australia
Australia is a pretty big place, so it's not surprising that it has produced such a wide range of beaitiful railway stamps.
Most of the illustrations here are taken from the ozrevenues web site, with the kind permission of Dave Elsmore. We have chosen Australia as the main example of foreign railway stamps because you can look up what amounts to a comprehensive catalogue of Australian railway stamps (plus a lot of other things) on the ozrevenues web site.
We will illustrate a selection of stamps from the states of Queensland, Tasmania, New South Wales, Western Australia, South Australia, Victoria, and from the Commonwealth. Note however, that there are a lot more Australian railway stamps than we show here. (Stamps shown here are not all drawn to the same scale).
a) Australian Stamps – a selection from Queensland

(1867)

(1880)

(1901)

(1963)

(meter Stamp)
b) Australian Stamps – a selection from Tasmania
c) Australian Stamps – a selection from New South Wales
| | |
| --- | --- |
| (1891) | (1929) |
d) Australian Stamps – a selection from Western Australia
e) Australian Stamps – a selection from South Australia

f) Australian Stamps – a selection from Victoria

g) Australian Stamps – a Commonwealth selection

Even if you don't collect Australian railway stamps, the ozrevenues web site is still worth a visit!
 Foreign Railway Stamps – a brief overview of some other countries
We will show here a few stamps from a few other foreign countries. These countries have produce some interesting and fascinating stamps over the years, but there are also many other railway stamp issuing countries if you look for them.
•  The Netherlands – a few varied railway stamps and cancels from the Netherlands:
| | |
| --- | --- |
| (Cancellation - Red Light! Stop!) | (Meter stamp - Stop when light flashes red) |
You may also wish to visit Stamps about Railways in the Netherlands, Hans Vink's excellent web site which presents a very wide ranging picture of stamps with railway-related subjects from the Netherlands (plus railway stamps from further afield which have connections with the Netherlands). This site opens in a new window, and has pages for:
Ordinary stamps about railways in The Netherlands
Dutch railway letter and parcel stamps
Dutch regional stamps about railways
Dutch overseas territory stamps about railways
Dutch cinderellas about railways
Dutch postal stationary about railways
Dutch Railway Stamps: Cancellations
Dutch postage meter cancellations about railways
Dutch Railway Stamps: First Day Covers
Dutch maximum cards about railways
Dutch railways on non-Dutch stamps
•  Belgium – a selection of railway stamps (not all to same scale)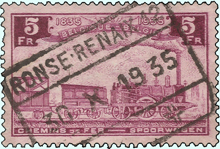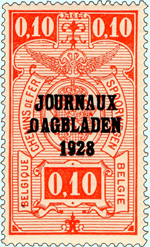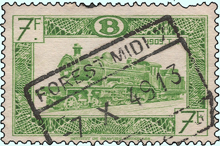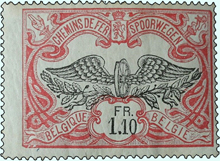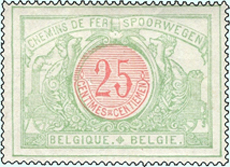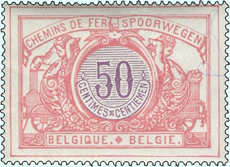 •  South Africa – a selection of railway stamps (not all to same scale)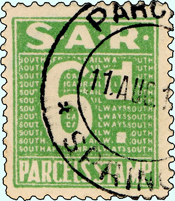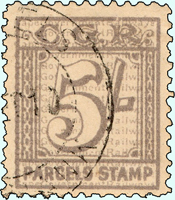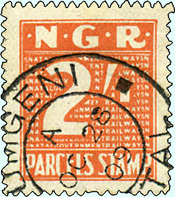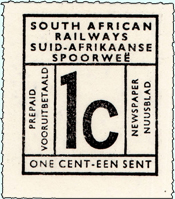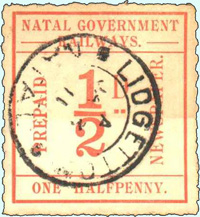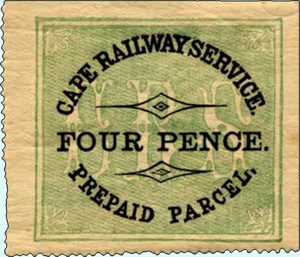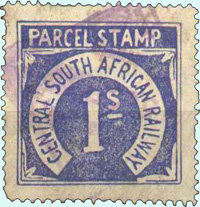 Looking for Foreign Railway Stamps
It is always a good idea to search on the internet when looking for railway stamps of your chosen country – Google and ebay are useful.
To search on Google for railway stamps of (say) France …
•  first go to the Google website, then …
•  in the Search box type (say) railway stamp france pic and press Enter, then …
•  click on Images for railway stamp france on the resulting page
You will then be presented with a page showing a huge number of 'hits' for your search
Alternatively, when our RPG List of Members' Interests  is fully operational, RPG members can look at this list to see if anyone else collects the country or area that they themselves are interested in.
Whatever your choice of foreign country, it is likely that there are some railway stamps from that country somewhere, though in some instances you may have to look hard for them!
If you want contact us, ask a question, or if would just like to know more,
CLICK HERE to go the the Contact Us page