Other Railway Philatelic topics
CLICK HERE to view a Bibliography of references to Other railway interests
Apart from the main areas of railway philatelic interest listed on the Home page, there are a many other types of railway post stamps, labels and stationery which may interest you …
1.  Railway Perfins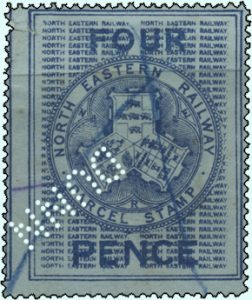 Private companies who used the railway regularly for sending parcels often kept large stocks of railway company stamps. As a security measure to prevent (or at least deter) theft of these stamps, the private companies would often punch small perforations called perfins in each stamp.
The illustration (left) shows a perfin used by Dunn & Company – a gent's outfitters which originated in Birmingham (1887-1991).
Railway companies themselves kept stocks of 'official' Post Office stamps for sending letters and parcels by Post Office mail. To deter theft, these too were also often perfinned by the railway companies themselves … as on the following three stamps: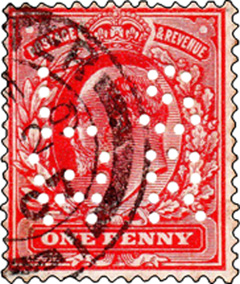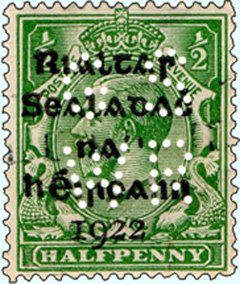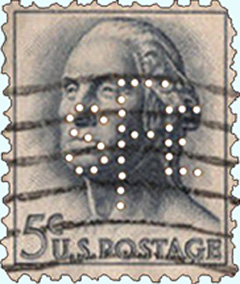 The first (red) Post Office George V stamp has been perfinned LSWR by the London & South Western Railway.
The next (green) Post Office George VI stamp has not only been perfinned GSWR by the Great South Western Railway (GSWR, Ireland), it has also been overprinted with text in the old Gaelic script (Rialtar Sealadach nah Eireann 1922 … Government Provincial of Ireland 1922).
The final (grey) USA Post Office stamp has been perfinned SFE by the Atchison Topeka & Santa Fe Railway Company. Railway companies in Canada and India (and probably other countries) also perfinned stocks of their offical post office stamps.
You can find more information about railway perfins on the Perfin Society web site. (This web site is currently under reconstruction and, at the moment, you will have to access the old version of the web site and search there for railway.) 
CLICK HERE to view the Perfin Society web site (old version) (then search for railway)
(opens in a separate window)
2.  Railway Post Labels
a)  Labels for Customer Goods:
Apart from the obvious stamps to indicate that a fee had been paid to transport a parcel, letter or other goods, you will find labels to tell railway staff that the item was FRAGILE, or contained GLASS, or was PERISHABLE. There were labels which instructed staff to take particular care, such as DON'T CRUSH. There were even labels (see below) for returned parcels which had not been delivered, either because the railway company had been unable to deliver them, or the addressee had for some reason refused to accept them: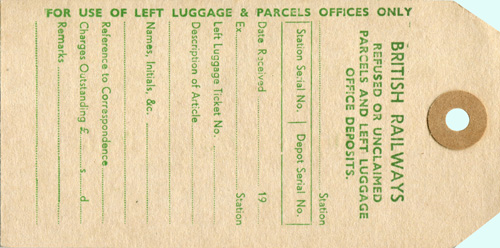 There were News Correspondence envelopes for roving reporters to send in copy to their Newspaper's headquarters, labels for transporting pigeons to a destination where they would be released for a race, and labels to say that a package or letter was URGENT.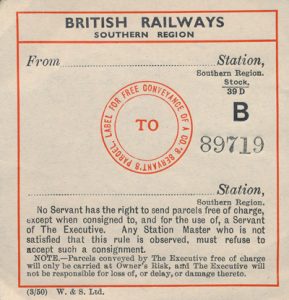 There were labels for free delivery of staff parcels (left), labels to say DELIVERY NOT INCLUDED and  labels to say that the letter or parcel was TO BE CALLED FOR at the destination station (although the difference between these two is not always clear), and a whole host of very collectable labels relating to the railway postal systems.
These can all often be bought very cheaply and form an interesting subject to collect.
b)  'On Company Service' Labels etc. for Company Goods:
These were used to transport (free of charge) various railway company goods or letters in much the same way as customers' parcels and letters were transported. For example, there are labels for the free carriage of electronics items which needed to be repaired (below).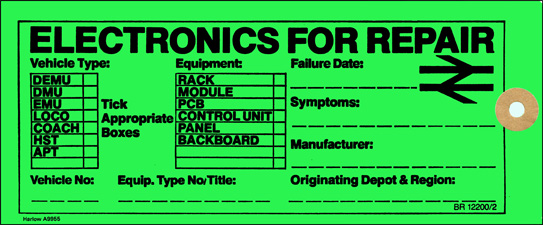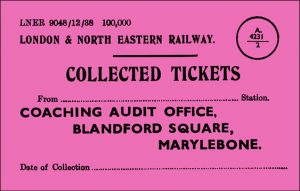 There are labels for parcels of Collected Tickets (used) to return them to the Audit Office so that checks could be made against fraudulent usage (see right). There are labels for Blank Card and Paper Tickets, labels for Excess Fare Tickets, labels for Warrants and Leave tickets etc … each to be sent to the Audit Office.
There are also special envelopes which were used for internal railway mail, envelopes to send notices of extra trains or specially scheduled trains to stations on a particular route … and a whole host of other varied railway post labels and envelopes. These labels and envelopes can often be bought fairly cheaply, and reflect a huge but seldom noticed area of railway post history.
3.  Railway Poster Stamps Labels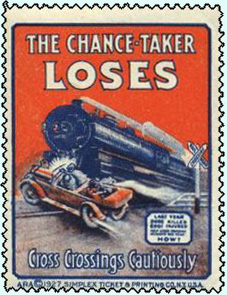 Railways often produced Poster Stamps to put on letters and parcels, but which cost the customer nothing. These stamps were primarily for advertising, with the main subjects usually being various holiday destinations which could be reached best (or so the stamps implied) by using the company's train services.
However, they were occasionally used to warn of the dangers of the railways, as shown in the poster stamp on the left. Poster stamp designs were often quite stylised.
4.  Railway Revenue & Tax Stamps
Revenue stamps and Tax stamps had little to do with the normal fees charged for carriage of letters or parcels. Such stamps were used – as the name suggests – to raise revenue or to levy a particular tax. However, they often look like normal railway stamps, and at first glance it is sometimes difficult to tell the difference. A little care should be taken when looking at something described as a 'railway revenue' stamp, because this description is sometimes erroneously used for normal 'carriage fee' railway stamps.
5.  Railway Postcards
Railway related (thematic) postcards depict railway engines, railway stations or railway journeys, humorous postcards about railways, postcards depicting railway hotels and so on … the list is endless. Many railway postcards show fascinating historic railway scenes, while modern 'preserved railway' postcards show how history has been kept alive.
The postcard shown below illustrates the spectacular Snowdon Mountain Railway.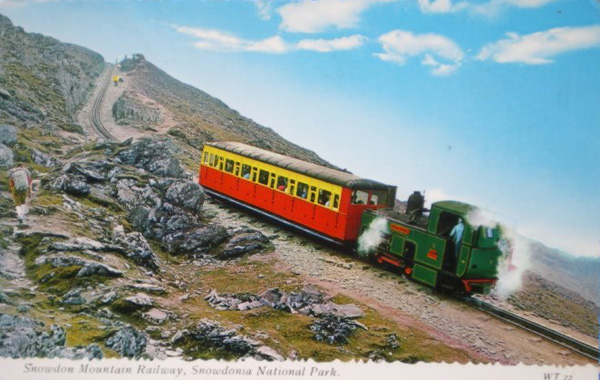 Here is another postcard showing the St. Moritz Railway, which operated on much the same system as the Snowdon Mountain Railway: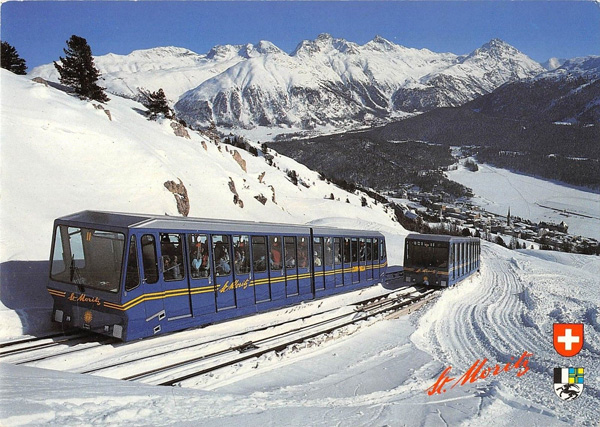 Over the next few weeks we will be adding images of a selection of Railway Postcards – watch this space.
CLICK HERE to view 40 Postcards about Incline (Cog) Railways
CLICK HERE to view 40 Postcards about Railway Bridges
6.  Railway Air Services
On 12 April 1933 the Great Western Railway (GWR) launched an air service between Cardiff, Newport and Plymouth, via Exeter. This was primarily a passenger service, but first day covers were carried on the inaugural flight.
The GWR had signed the Post Office agreement to enable them to carry railway letters, but there was some uncertainty as to whether that allowed them to carry letters by air.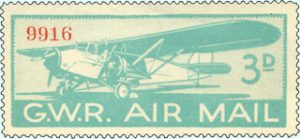 Following discussions with the Post Office the air mail service was approved, and officially started on 15 May 1933. This service was subsequently extended to Birmingham.
This air mail service was originally scheduled to close down over the Winter months, and the Summer service carrying mails duly stopped on 30 September 1933 … in the full expectation of restarting in Spring 1934.
However, that turned out to be the last flight of the GWR Air Service. In March 1934, the 'Big Four' railways (the London Midland & Scottish Railway, the London & North Eastern Railway, the Great Western Railway and the Southern Railway) came together with Imperial Airways to launch a new company called Railway Air Services.
A display entitled About the RPG was presented at the RPG 2017 Annual Convention at Shildon, and one section of that display was about the development of the Railway Air Services.
CLICK HERE to view that Railway Air Services page (opens in a new window)
7.  Mail Guard Marks
The Conveyance of Mails Act was passed by Parliament in 1838, and the gave the Post Master General the power to demand that railways cary Post Office 'mail and guards' on all trains. Letters handed to the guard (instead of being posted into the TPO letter box) could be stamped by the guard (often with his own name-stamp) and passed on to the TPO.
However, trains did not very often carry Post Office guards aboard TPOs, and most of the Guard Marks found on railway letters will have been stamped by the railway company guard. The following two Guard Marks were found on the same North Eastern Railway newspaper stamp. The guard H Elliott is clearly a railway company man, and A Parke is also likely to be a railway company guard.


But railway stamps are not the main source of Guard Marks. The majority of Guard Marks you will come across will be found on waybills used for parcels – which can have as many as 5 or 6 different Guard Marks as the parcel was handled by one guard after another! Guard Marks can be a really fascinating area of study.
If you want contact us, ask a question, or if you would just like to know more
CLICK HERE to go the the Contact Us page