This page will be updated on a regular basis to bring you topics of current interest to RPG members. If you have any news to add, please CLICK HERE to go to the Contact Us page.
The RPG at London 2022 International Stamp Exhibition
(posted 3 March 2022)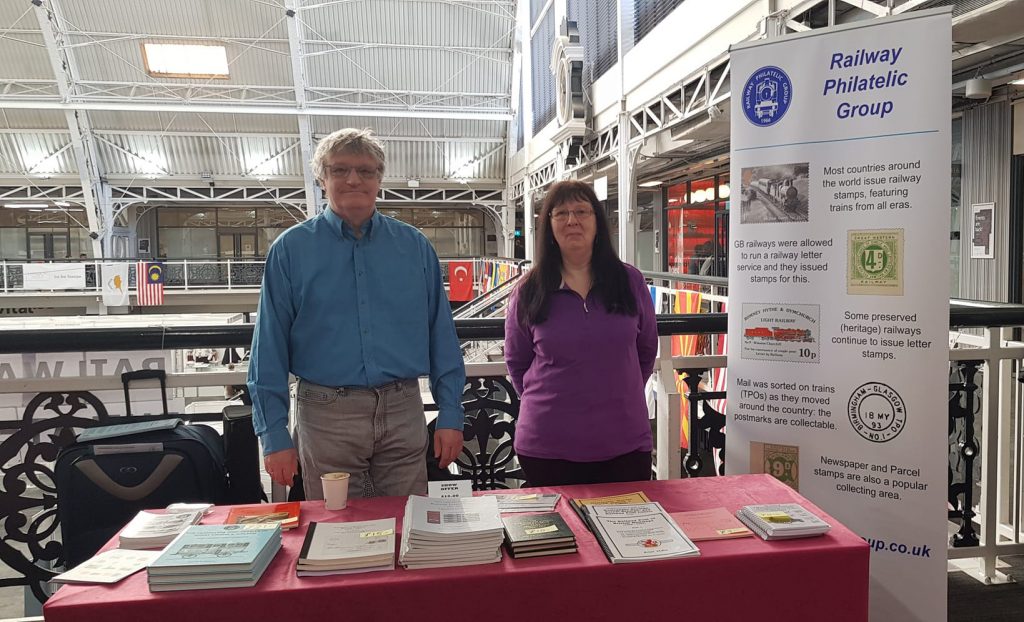 Wednesday 23rd February was 'Societies Day' at the London 2022 International Stamp Exhibition. The RPG had a stand there (staffed by Terry and Christine) on what turned out to be an excellent day. About a dozen RPG members and quite a number of non-members visited the RPG stand, and this generated a lots of interesting discussions.
Two new RPG members were signed up and a number of railway philatelic books were sold, including copies of Brian Childs' NER, LNER and BR parcel stamp catalogues … showing there is a demand for listings of this type. The RPG has now started work on an up-to-date Railway Newspaper & Parcel Stamp Catalogue of the whole of Great Britain & Ireland. This is a huge task, as the last such catalogue was published in 1906 by Herbert L'Estrange Ewen!
RPG Facebook Page (posted 7 June 2021)
CLICK HERE to visit the RPG Facebook Page (Facebook opens in a separate window)
Facebook? Some people love it … some people hate it … but we are putting Facebook to good use. The RPG now has its own Facebook page. You don't need to log in or install anything on your own computer. To view the RPG Facebook page, all you need to do is click on the Facebook icon here (Facebook opens in a separate window) …

This icon also appears at the top right of every page on the RPG web site, so you can open our Facebook page from any page within the RPG web site. Alternatively, you can open Facebook first and search for Railway Philatelic Group.
Have a look at the RPG Facebook page and see if there is something there relating to your own railway philatelic interests! Why not post something yourself about your own speciality … or ask some questions which other members can hopefully answer.
Whatever you opinions, why not let us have your comments using the Contact Us page?
NOTE – local or national events can be mentioned on this page.
Reports on events of interest can also be included on this page.
New discoveries or other items of interest can be noted here.
If you have a news item suitable for this page please send it to us via the Contact Us page.