This page will be updated on a regular basis to bring you topics of current interest to RPG members. If you have any news to add, please CLICK HERE to go to the Contact Us page.
Sale of Thematic Items from recent Exchange Packets
A number of railway thematic items unsold from recent packets are now available for open sale on a first come / first served basis.    CLICK HERE for details of Packet Lots for sale (June 2018)
2018 Annual Convention
The 2018 Annual Convention was held on the weekend of 15-17 June, 2018 at Knowle (near Solihull).
Ten displays were given over the weekend:
Rod Ash: Railway Postcards
Malcolm Roberts: London-Holyhead TPO
Lynn Roberts: Railway Hotels & Steamers
Clive Jones: Midland TPO and connections
Nigel Dickinson: South African Railway Parcel Stamps, Newspaper Stamps of the Scottish Railways & Minor Pre-grouping Railway Parcel Stamps
Rick Martin: US RPOs from a different point of view
Dominic Wickremasinghe: Travelling Post Offices of Prussia 1850-1889
Keith Downing: Tramway Mails & TPOs
John Bathard: Bosnia-Herzegovinian Railways to 1945
Iain Wells: A twist on FDC's: TPO AM Postmarks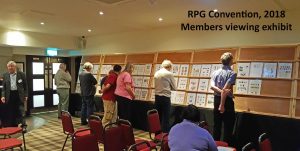 As is usual at the Convention there were also various competition displays where members presented a display in pre-set subject areas. These displays were judged according to laid down guidelines, with the winner in each group being awarded the appropriate trophy for the year. This year there were five such competition displays, some of which will be posted to this web site at a future date
The following trophies were awarded in competitions at the Convention
The Doncaster Cup (TPOs – Postal History display): 2018 Winner,  Clive Jones
The Malin Cup (Thematics): 2018 Winner,  John Bathard
The Ewen Trophy (Postal Display Competition): 2018 Winner,  Mike Tuttle
The Friday and Saturday evening provided ample time for socialising over fine dinners, rounding out an excellent event organised by Iain Wells.
CLICK HERE for further details of the 2018 Annual Convention
Item Added: 19 June 2018
New book on TPOs
Iain S. Wells of the RPG and Keith Morris (members of both the RPG and of the TPO & Seapost Society) have just completed their new book and details can be found here
CLICK HERE for more details about The AM Postmarks of the Travelling Post Office
Item Added: 19 June 2018
NOTE – local or national events can be mentioned on this page.
Reports on events of interest can also be included on this page.
New discoveries or other items of interest can be noted here.
If you know of anything suitable for this page please let us know via the Contact Us page.