Annual Convention Display 1The Era of the Railway Sub OfficePage 2. Types of Post Marks used at RSOs
Most types of postmarks were used at Railway Sub Offices, and some examples are listed below.
a)   RSO Postmarks – Duplex
In England, duplex postmarks are only known at the Skelton, Whitland and Sedbergh RSOs. Shown here is a duplex postmark used at Sedbergh R.S.O. on 2 September 1903.
(recorded used   3.8.1900 – 19.9.1903)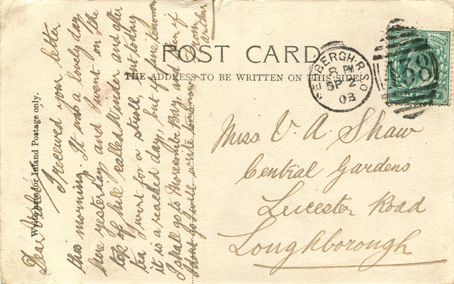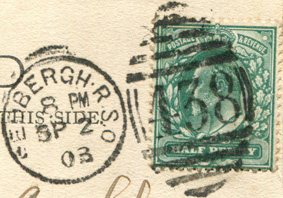 In Ireland, duplex postmarks are known only at the RSOs in Hillsborough (Co. Down), Leap (Co. Cork), Kells (Co. Meath), and Neale (Co. Mayo). Here is and example of a duplex stamp used at Leap RSO on 5 August 1885. Note that the killer part of the stamp is diamond-shaped, as in all such Irish postmarks. (recorded used   21.12.1881 – 25.8.1886)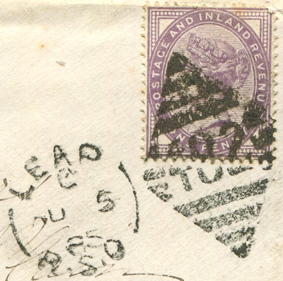 No duplex RSO postmarks have been recorded in Scotland. In Wales, duplex RSO postmarks are known at Aberkenvig (Bridgend) and Maescrugiau (Aberystwyth). Two further Welsh RSO postmarks are reported at Maesteg (Bridgend) and Ystrad Meurig (Cardigan) … but these remain uncertain.
b)   RSO Postmarks – Single Ring
By far the greatest number of RSO postmarks are of the single-ring type, varying in
diameter from 21 mm to 29 mm. These tend to be from offices in smaller villages.
Shown here is a single ring cancel used at Eastgate R.S.O. / Co. Durham on 11 march 1903.
(recorded used   11.3 1903 – 27.6.1920)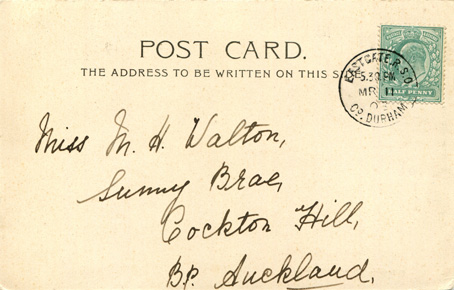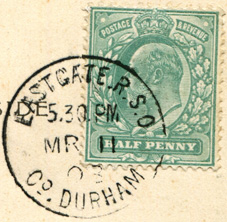 c)   RSO Postmarks – Double Ring
Double-ring RSO handstamps were in use in the same era as many single ring RSO handtamps. However, double-ring RSO handstamps were usually only found in larger offices. Here is an example of a double-ring RSO stamp used at Grange-over-Sands R.S.O. / Lanc on 1 July 1905.
(recorded used   9.7.1901 – 30.9.1909)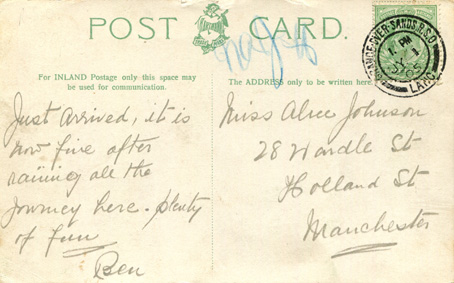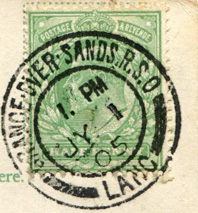 d)   RSO Postmarks – Skeleton Handstamps
As at all post offices, the normal handstamps used at RSOs became worn or damaged over time. They would then be sent away for repair or refurbishment. The office would be provided with a temporary Skeleton handstamp, which it would use until it got back the repaired handstamp. Such handstamps were called skeleton because they consisted of little more than a framework into which various letter and number slugs could be inserted (rather like in a child's printing set). Here is an example of a skeleton handstamp used at St Martin R S O / Cornwall on 16 March 1905. (recorded used   17.3.1905 – 28.4.1906)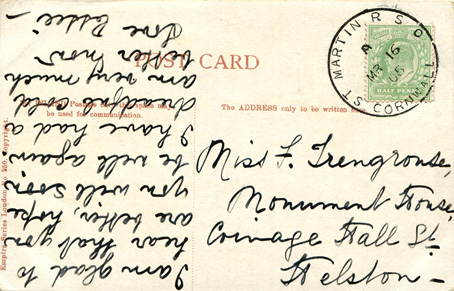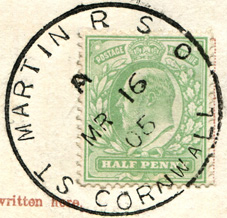 e)   RSO Postmarks – Rubber Handstamps
Rubber handstamps were intended for use on fragile items. However, quite a few such stamps are known on the small postcards which had pre-printed postage stamps attached. Rubber stamp examples from RSOs are very scarce … there are 17 such stamps recorded in Proof Books for offices in County Durham, but only one of these has ever been recorded used. Here is an RSO rubber stamp example used at Easthope / Much Wenlock RSO on 22 July 1905 – though the postmark is not as clear as we would like! (recorded used   22.7.1905 – 21.9.1905)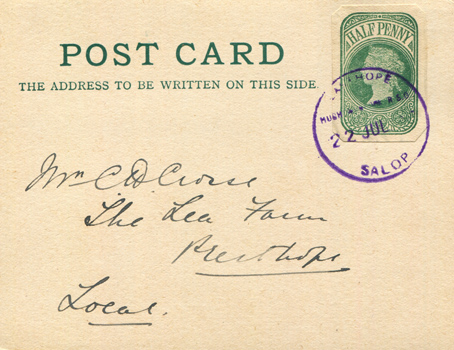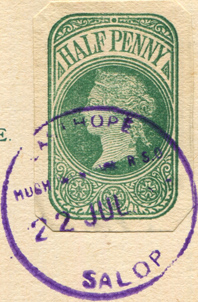 CLICK HERE to continue to:   Page 3 – The Postal Addresses of RSOs
If you want contact us, ask a question, or if you would just like to know more,
CLICK HERE to go the the Contact Us page